We left Dragon Hill and parked a little way further up. My two legs was a bit cautious here, 'cause there was a lot of sheep to worry about, but to be honest, I was too excited to be getting up into the hills to bother about them. I'm not keen on sheep. The only ones I've met close up stamped at me! And anyway… I had enough to do, trying to herd my three two-legses.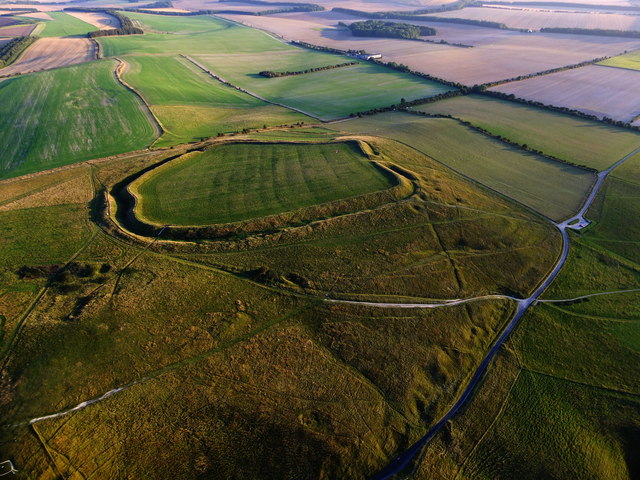 Off they went up the hill, and as soon as she thought it safe, she let me off the leash again. Well, one of the girls went off ahead, so I thought I'd better follow her. After a while, I looked round to check on the others and realised I couldn't see my two-legs! She couldn't have gone far, I thought, and anyway, I knew where she'd left the car. As I still couldn't see her, I thought that's where she must be hiding, so I ran all the way back down the hill. No two-legs. Then I hear her and the others shouting and whistling for me from up top! Where had she been hiding??? I had to run all the way back up again! By the time I got there, comments were being made about my rear end, which I thought a tad unfair. Much more of this up-and-downhill business and my rump would be positively sylph-like!
I made a point, after that, of herding them better… or at least, I tried to, but a dog can't be everywhere at once… and they can! So, I stuck close to mine and we walked around the castle. Now, Uffington Castle is not what you might call a proper castle, so I had to do some 'vestigating. There are no walls or drawbridges… and 'pparently, there never were any. But the hill is crowned with rings and ditches of earth with 'gates' in. She called it a hillfort. And the Ridgeway, an ancient track that crossed the country, runs close by.
She told me the banks enclosed about three hundred and fifty thousand square feet. Now, I didn't like to say anything, but I couldn't see any feet other than theirs, square or otherwise. But she has some weird ideas. She said it had been made the best part of three thousand years ago and no-one really knew why, 'cause it is on top of a hill and there is no water or anything… so it would not have been a great place to live. And no-one seemed to have really lived there properly either, 'cause there were no buildings. But they did go there, and pot sherds and stuff have been found. Maybe for festivals or to trade? She said it was a no digging area, not even if I sniffed out any more bones. They'd already found eight Saxon and forty-six Romano-British burials and a couple of shrines up there, but I was not allowed to see if I could find any more. You'd think they would be glad of the help…
Then we walked down to the White Horse. Our friends could not believe that we could get so close to it. The 'horse' is a three or three and a half thousand-year old hill figure, made of trenches cut three feet deep into the hill and filled with crushed chalk.
It is a bit like Whiteleaf Cross, where I'd had another adventure, but much older. It is 'scoured' every few years to keep it white, and my two legses had been there when it was scoured last year. But this horse has watched over the Manger for a very long time.
Now, the whole 'horse' thing is still being debated, but what isn't arguable is that it is aligned with the sun, which seems to overtake it at midwinter. So, it is a solar beast… and maybe those pointy things coming out of its mouth are supposed to be flames. Which would make it a dragon… But then, some folk think it is a sabre toothed tiger, which she tells me is a cat as big as her car… I think I'd prefer it to be a dragon.
We were careful not to walk on the chalk, but we did do some exploring, 'cause the thing is huge! Three hundred and sixty feet, she says… that's a foot for every day of the year apart from the five that never used to fit. And it is carved into a steep slope… but you can't actually see it properly except from the air or a very long way away. There was a lot of how-ing and why-ing going on, I can tell you.
Anyway, she said we still had one last place to see. By this time, my legs were quite glad we were not going to walk the mile there and another mile back. She was going to take the car closer again to save time, 'cause we only had the morning.
I'm not used to all these hills, and I was really glad she'd packed my bowl and water! I think she ought to pack some for herself next time though… she was looking a bit pink by the time we got back to the car. I couldn't wait to see where we would go next…
(Click the highlighted links to read more about the sites)